The Forge of Vulcan
This painting which sits in the Museo del Prado, Madrid, Spain is sometimes refered to as Apollo in the Forge of Vulcan and was completed by Diego Velazquez in 1629–1630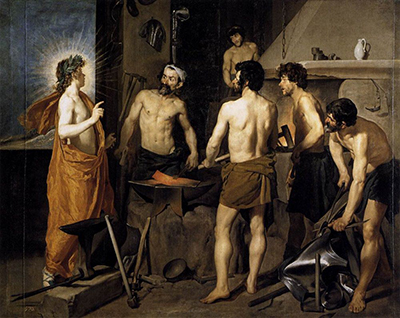 The Museo del Prado in Madrid continues to hold the finest collection of original Diego Velazquez paintings, including his masterpiece Las Meninas. The Forge of Vulcan became part of this prestigious collection as far back as 1819.
There are clear influences from the Renaissance within this painting. The deep layered tonal qualities remind many of Titian and Tintoretto, whilst the darked background could easily be from a Caravaggio masterpiece. Velazquez was an artist who appreciated and learnt from the finest names in European art, spending several periods of his career travelling in order to develop his reputation and discovering new ideas and techniques.
The interaction between the figures in this composition is considered by art historians to be particularly natural and a signal of what was to come from this naturally talented artist. Many painters have the ability to capture anatomy accurately, but to put multiple figures together in a believable scenario required experience and particular flair.
Peter Paul Rubens, another artist who travelled across Europe in order to further his artistic knowledge, was to request this painting as well as Joseph's Tunic which was produced at around the same time. To learn about two such famous artists spending time together on their travels leaves us assuming that they would both inspire each other in later parts of their respective careers.
Velaquez produced this painting after his initial visit to Italy in 1629. It was during his time in Italy that the artist was to draw inspiration from the likes of Tintoretto, Titian and Caravaggio. In truth, their styles differed somewhat but he found elements of each that could develop his own work.