Rokeby Venus
Rokeby Venus is now in the collection of the National Gallery in London, UK and is a significant painting from around 1647–51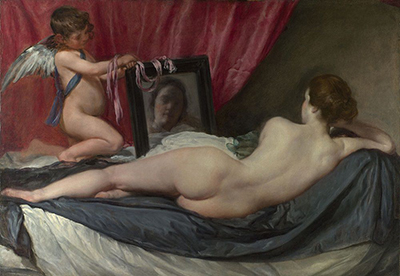 This painting was originally a part of the Morritt Collection at Rokeby Park in the North East of England, which is where the term Rokeby Venus came from.
The Spanish Church disapproved of nude female portraits during the time of Velazquez, so you will not find many within his career. Many centuries later this depiction still proved controversial to women's right campaigners. As a result it was slashed whilst on display at the National Gallery in London.
Mary Richardson, a suffragette, was protesting against the arrest of the group's key figure - Emmeline Pankhurst. She was arrested and claimed to have carried out the severe attack in order to prevent men from continuing to stare at the naked subject.
Beauty is the key theme in this portrait, making Venus, the goddess of Love, the obvious candidate for this depiction. She was considered the most beautiful of all the godesses and this is played on by the use of a mirror which is held up by her son, Cupid.
There are several female nude paintings that are amongst the most famous of any genre or movement in the world. Whilst this is a significant work in the realm of Velazquez's own career, it cannot be considered as well respected as the likes of Olympia by Edouard Manet, Three Ages of Woman by Gustav Klimt, Leda and the Swan by Leonardo da Vinci or Three Graces by Peter Paul Rubens.
The artist surprisingly chooses to place Venus' face as a reflection in the mirror, but makes her look considerably older than her body would suggest. This contrast may have been to warn of the dangers of vanity or perhaps simply remind us that beauty does not last forever.
The Rokeby Venus is also sometimes referred to as any of The Toilet of Venus, Venus at her Mirror, Venus and Cupid, or La Venus del espejo.